Reclaiming Romani-ness Identity Politics, Universality and Otherness Or, Towards a (New) Romani Subjectivity
##plugins.themes.bootstrap3.article.main##
##plugins.themes.bootstrap3.article.sidebar##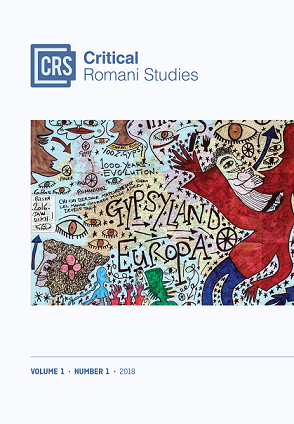 Published Apr 13, 2018
Ioanida Costache
http://orcid.org/0000-0003-3118-2604
Abstract
Drawing on theories of identity postulated by cultural theorists, scholars of gender identity, and critical race theorists, I explore issues of identity politics and "Otherness" as they pertain to Romani identity, history and activism. By critiquing the latent bifurcation of identity and subjectivity in Judith Butler's theory of performativity as well as her explicit adherence to universalism, I begin to outline a (post-Hegelian) hermeneutic in which narratives of self enable political processes of self-determination against symbolic and epistemic systems of racialization and minoritization.[1] Roma identity both serves as an oppressive social category while at the same time empowering people for whom a shared ethnic group provides a sense of solidarity and community. In re-conceptualizing, reimagining and re-claiming Romani-ness, we can make movements towards outlining a new Romani subjectivity – a subjectivity that is firmly rooted in counterhistories of Roma, with porous boundaries that both celebrate our diversity and foster solidarity. I come to the subject of Romani identity from an understanding that our racialized and gendered identities are both performed and embodied – forming part of the horizon from which we make meaning of the world. I wish to recast the discourse surrounding Romani identity as hybridized and multicultural, as well as, following Glissant, embedded into a pluritopic notion of history.
##plugins.themes.bootstrap3.article.details##
Keywords
identity, post-positivist realism, Romani subjectivity, counterhistories, universalism
Authors who publish with this journal agree to the following terms:
Authors retain copyright and grant the journal right of first publication. The work is licensed under a Creative Commons Attribution-NonCommercial License that allows others to share the work with an acknowledgement of the work's authorship and initial publication in this journal.
Authors are able to enter into separate, additional contractual arrangements for the non-exclusive distribution of the journal's published version of the work (e.g., post it to an institutional repository or publish it in a book), with an acknowledgement of its initial publication in this journal.